Wasim Akram Birgraphy
Wasim Akram born in Lahore, Punjab is a former Pakistani cricketer. He was a left-arm fast bowler and left-handed batsman, who represented the Pakistani cricket team in Tests and One Day Internationals. Widely regarded as one of the finest fast bowlers ever, Akram holds world records for the most wickets taken in both ODIs (502) and List A cricket (881), and was one of the pioneers of reverse swing bowling. The revolutionary nature of reverse swing initially resulted in accusations of ball tampering, although reverse swing has now been accepted as a legitimate feature of the game. Akram's later career was also tarnished with accusations of match fixing, although these remain unproven.
Wasim retired in 2003, after a brief spell with Hampshire in England. Since then, Wasim has taken up commentary and can currently be seen as a sportscaster for the ESPN Star network, and is also running shows on ARY Digital. He is married to Huma Mufti, daughter of Mr. Humayaun Mufti. Wasim and Huma have two sons from their marriage of fourteen years. Wasim has also appeared in Fuzon video as a model.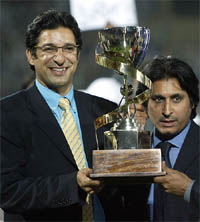 Wasim Akram
Wasim Akram
Wasim Akram
Wasim Akram
Wasim Akram
Wasim Akram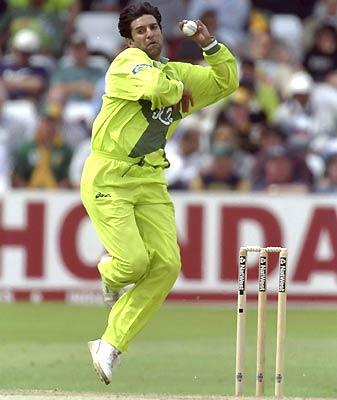 Wasim Akram
Wasim Akram
Wasim Akram- The King Of Swing !!
Wasim Akram Bowling After 4 Years - Exclusive Video