Waqar Younis Biography
Full name Waqar Younis Maitla
Born November 16, 1971, Vehari, Punjab
Current age 39 years 349 days
Major teams Pakistan, Glamorgan, Karachi, Lahore, Multan, National Bank of Pakistan, Rawalpindi, Redco Pakistan Ltd, Surrey, United Bank Limited
Batting style Right-hand bat
Bowling style Right-arm fast
Other Coach, Commentator
Relation Brother - Faisal Younis

Career statistics
Test debut Pakistan v India at Karachi, Nov 15-20, 1989 scorecard
Last Test South Africa v Pakistan at Cape Town, Jan 2-5, 2003 scorecard
Test statistics

ODI debut Pakistan v West Indies at Sharjah, Oct 14, 1989 scorecard
Last ODI Zimbabwe v Pakistan at Bulawayo, Mar 4, 2003 scorecard
ODI statistics

First-class span 1987-2004
List A span 1988-2004
Twenty20 debut Somerset v Warwickshire at Taunton, Jun 13, 2003 scorecard
Last Twenty20 Surrey v Warwickshire at Nottingham, Jul 19, 2003 scorecard
Recent matches
Bat & Bowl Team Opposition Ground Match Date Scorecard
0/25 Pakistanis v International XI The Oval 10 Jul 2006 Other match
Profile
The man who really put the reverse into swing. Waqar Younis bucked the 1980s trend of pitching fast and short by pitching fast and full. Not an obvious recipe for success until you factor in prodigious late inswing, which was designed to smash into the base of leg stump or the batsman's toes. In his youth, he was one of the fastest ever. Waqar's surging run was a glorious sight - and an incredible strain on his body. His method of aiming for the stumps rather than the batsman earned him the best strike rate of any bowler with over 200 Test wickets. It could have been better: back injuries cut short his prime, but determination has always resurrected him, although he was easily pushed over the line that divides aggression and intimidation. He looked to have been put out to pasture by the end of 2000, but before long he had been appointed captain for the 2001 tour to England. Initial results suggested that this was an inspired move, but in October 2002 he was at the helm as Pakistan crumbled to 59 and 53 all out against Australia in Sharjah. He managed to retain the job for the World Cup, but a disastrous tournament - Pakistan beat only Holland and Namibia - meant an unceremonious exit. Unable to force his way back into a side building for the future, he announced his retirement in April 2004. As a batsman, lusty blows were his staple, but Waqar batted with the air of a man who thinks he could have done better. The next stage of his career began in March 2006 when he was appointed as Pakistan's bowling coach, and he has also been a regular in the commentary box.
Waqar Younis
Waqar Younis
Waqar Younis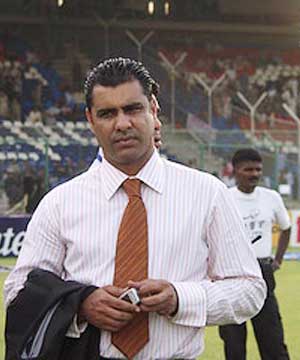 Waqar Younis
Waqar Younis
Waqar Younis
Waqar Younis
Waqar Younis
Waqar Younis
Waqar Younis Wickets
Waqar Younis The Aggressor